Tianma Telescope (Shanghai 65m Radio Telescope)
Tianma Telescopee is located in the western suburbs of Shanghai, Sheshan town, Songjiang district, .It western suburbs of Shanghai, which iiss built jointly funded by the Chinese Academy of Sciences (CAS), Shanghai Municipality, and the Lunar Exploration Program.The telescope construction started in early 2009, and the majority of the mechanical system was completed in October 2012.By the end of 2013, Tianma telescope has been installed with four receiver systems (L, C, S/X).OnDecember 2nd, 2013, Tianma telescope passed the acceptance evaluation. By design, the Tianma Telescope with a diameter of, 65meter wide, one of the largest steerable radio telescopes in the world,will beis a multifunction facility,conductingused forradio astronomyastrophysics, geodynamics geodesy, astrometry, as well as in space science, and will be a major international facility.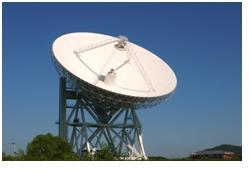 Major elements of the telescope can be described as follows:
Antenna System:The system solves the key technologies and breakthroughs are:
1) Conformal antenna structure design technology;
2) Development of large-scale high-precision reflector panels and high-precision measurement technology;
3) Full-track precision welding technology;
4) Sub-reflector six parallel structure adjustment technology;
5) Fastfrequency switching technology;
6)High-precision servo control technology;
7) Large antenna entire installation and lifting technology
Tianma Telescope is a parabolic reflector, sustained by impressive mechanical structure, which allows azimuth and elevation movements. The movement in the azimuth direction is granted by a system of 12 wheels located on the seamless-welding track, 42 m wide, which is hosted by an appropriate concrete foundation.The movement in the elevation direction is guaranteed by complicated machinery, which is able to maintain high pointing accuracy.The entire mechanical structure weighs roughly 2640 tons and 70 meters height. Tianmawas conceived as a state-of-the–art instrument offering high efficiency also at rather short wavelength. In particular, the nominal shortest Tianma operating wavelength is 7mm corresponding to a frequency of 43 GHz.Every panel of the main reflector is adjusted via the active surface system.
A sophisticated network of 1104 actuators provides the alignment with the main reflector surface whichguarantees the high antenna efficiency at high radio frequencies.
By the end of 2013, Tianma telescope has been installed with fourfourcryogenic receiver systems (L, C, S/X).For L-band, it is totally designed by ourselves with 500 MHz bandwidth and less than 10 K receiver noise temperature. It is expected that another four high-frequency cryogenic receiver systems (Ku, K, Ka, Q) will be finished before 2015.
Receiver System:Up to Nov. 2013, SHAO has accomplished four sets of installation and commissioning of the low-frequency band (L,S,C,X) receiver systems. Some key technologies have been successfully solved during the development process in the following: 1)Development of broadband feed and polarizer;2) Development of cryogenic LNA: SHAO independently developed the L-band cryogenic LNA with 4K noise temperature; in S-band receiver, a pioneering cryogenic LNA module combined with HTS filter was employed which effectively suppressed the 3G RFI signals;3) Development of cryostat vacuum window: a low-loss high-vacuum cryostat vacuum window with 270mm diameter has been successfully applied in L-band receiver which is currently the largest diameter in China up to date.
Active Surface System: The first-developed large active surface system made a breakthrough in China. Some key technologies have been successfully solved during the development process in the following: 1) Development of high-precision, high-reliability and long-life actuators: a number of innovative design has been achieved in the high-precision contact switches, active surface system specific cables and actuator structural design; 2)Thousands of points real-time, distributed, high reliability monitoring and collaborative control can achieve the real-time distributed monitoring of 1104 actuators. Additionally, all actuators can response within 1s, and conduct hot backup design via control bus to improve the reliability of monitoring.
Back-End: Technical features of SHAO independentlydevelopedTianmais also equipped withmultiple back-ends consisting of single dish terminal, VLBI terminal and etc.VLBI digital recording termianals are: 1) compatibility with international VLBI terminal devices;2) the development of a real-GHz wideband digital down-conversion processing technology; 3) with 1024 Mbps full-bandwidth real-time, high-frequency resolution (1Hz) digital signal processing capabilities; 4) to meet the satellite tracking observations, high gain, high phase stability, large dynamic range of wideband AGC has been developed.DIBAS is imported from NRAO for Pulsar and spectral line observations. For pulsar observation, it hasve2 GHz bandwidth for coherent and 6 GHz bandwidth for incoherent, both with 64\128\256\512\1024\2048\4096 channels selectable; fFor spectral line observation, it hasve wide band (maximum 1.5 GHz BW) and narrow band (highest spectral precision 0.24 KHz). DBBC2 is the VLBI terminal for EVN observations. CDAS is a VLBI data acquisition system designed bySHAO.Inputs are 4 IFs, each with 512 MHz bandwidth; and the outputs haves 16 BBCs, with bandwidth of 0.5\1\2\4\8\16\32 MHz selectable, whichthe outputs are compatiable with Mark5B+.